Posted in
Baking
,
Holiday
on 03/16/2010 12:23 pm by Chrissy
Ingredients: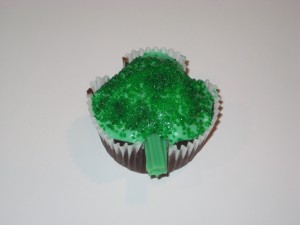 1 (12-ounce) can Guinness stout
1/2 cup milk
1/2 cup vegetable oil
1 tablespoon vanilla extract
3 large eggs
3/4 cup sour cream
3/4 cup unsweetened cocoa
2 cups sugar
2 1/2 cups all-purpose flour
1 1/2 teaspoons baking soda
1 8oz. bar of cream cheese, softened
1 4oz. stick of unsalted butter, softened
2 C confectioner's sugar
4 – 6 Tablespoons of Bailey's Irish Cream
Aluminum foil
Green food coloring
Green licorice (Twizzlers Rainbow Twists, or green apple licorice found at Whole Foods)
Making the cupcake:
Preheat the oven to 350°F.  In a large bowl, combine all the wet ingredients: Guinness, milk, vegetable oil, and vanilla. Beat in the eggs, one at a time. Mix in the sour cream (don't worry, you can't taste the sour cream).  In a separate bowl, whisk together the dry ingredients: cocoa, sugar, flour, and baking soda. Gradually mix the dry ingredients into the wet mixture.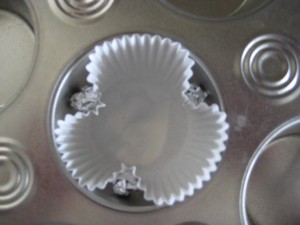 Place baking cups into pan.  Fill half way up with Guinness mixture.  For each cupcake, you will need to make three balls of aluminum foil 2/3 inch in diameter.  Place the foil balls between the paper liner and the pan equidistant around each cupcake.  The foil balls will create the shamrock shape.  Bake 25 minutes.  Makes 24 cupcakes.
For the frosting:
Blend together cream cheese, butter, and confectioner's sugar.  Beat until light and fluffy. Slowly add in the Bailey's, and beat until completely incorporated into the frosting.  Add green food coloring and blend until you have the desired color of green.  Using a spatula spread the frosting on top of the cupcake.  Be careful to keep the frosting within the paper liner so you don't lose the shamrock shape.  For the stem, cut the green licorice into 1 inch pieces and insert into the cupcake. Top with green sprinkles if desired.
I couldn't let the cool looking beer can go to waste, so I bought a few green carnations from the store and used the can as a vase.  It added to the Irish spirit as friends came by to grab a yummy cupcake.
If you are new to crafting, you may want to visit the Newbies Page. Thanks for visiting!