Posted in
Parties
on 02/24/2010 06:25 pm by Chrissy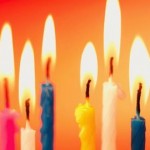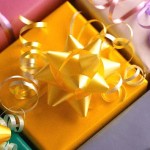 I remember growing up as a kid and planning my birthday parties.  I never got everything I wanted, but my imagination was much too big for anyone parent's wallet.  Now that I am all grown it is time to celebrate big.  Blast to the past birthday is a way to be a kid again and celebrate like you did back when you were 7, but with better drinks and food…and all the dessert you want to eat.
Communication:
I suggest using www.evite.com for your invitations.
Sample wording:
We are going back to our childish ways to celebrate (Name) Birthday.  Festivities include (Name's) favorite birthday meal (enter food), cake & ice cream, piñata, water balloon toss, pin the tail on the donkey, and more.
*For an adult birthday, it is important to indicate if gifts are welcome.  If not suggest donating to a charity in honor of the birthday boy/girl.
*Include a note if children are welcome.  Just because it is a kid themed party, does not mean that it is appropriate for kids to attend.
Decorations: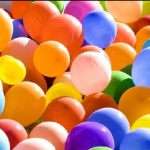 The trick for setting the mood for this party is lots of color.  Use primary colors for: streamers, balloons, plates/plastic-ware/cups, and tablecloths.  The most cost-effective way to get lots of color is using streamers.  You can use multiple colors at one time and string from one corner of the room to another (crossing each other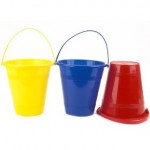 in the center of the room).  Add a few balloons on the mailbox, stair way, serving tables, and especially on the chair of the birthday girl/boy.  To encourage guests to have fun get small toys and place around the tables (yo-yos, bouncy balls, playdough).  Beach buckets make great containers to display candy from your childhood or for serving chips.  For a big wow, set up a brownie bar that shows a variety of toppings and sugary sweets that guests will enjoy with the time is right.  Plan out the spaces where the games will take place.  Use card tables to set up game stations so guests can prepare themselves for the fun to come.
Entertainment: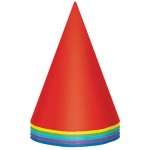 Party Hat Center – At the entrance to your party post a sign stating "Must have party hat to enter".  Get plain party hats and provide stickers and markers so guests can decorate their own hat.  Suggest that guests write their name on their hat so everyone can meet and greet each other.
Pin the Tail on the Donkey – Most party stores will have a set that can be purchase that includes all the pieces to play this game.  Have everyone write their name on the game piece and then blindfold each person when it is their turn.  This is a great photo opportunity so have the camera ready.  Also make sure to have prizes on hand (movie tickets, large candy bars, Starbucks gift card).
Water Balloon Toss – This childhood game is great, but only if it is warm outside.  Fill the balloons with water a few hours before the party in a large tub.  Put the tub out of sight or you may have fun before you are ready.  Everyone pairs up and starts 3 feet away from their partner other.  With each successful pass on teammate takes a step back.  I like to use various sized balloons so the game gets harder as participants are eliminated.  Have towels on hand in case a balloon fight breaks out.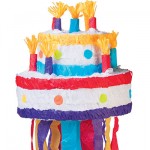 Piñata – Plain and simple is all you need here.  Spend a little more and get the good candy.  It is embarrassing to have candy left on the ground because no one wants to take it.  With adults, it is a must to blindfold and spin each person that will take a swing.  Have goodie bags on hand so all that candy goes home with your guests.
You can expand this kid's party idea to include:
-Princess Party
-Slumber Party
-Superhero Party
-Pirate Party
-Star Wars
-Inflatable Party (there are lots of options for adults)