Posted in
Baking
,
Holiday
,
Kid Friendly
on 02/06/2010 11:50 pm by Chrissy
Here is a great idea for kids to make for their friends, teachers, and loved ones for Valentine's day.
Materials: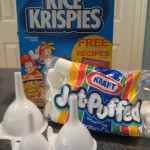 3 tbls butter or margarine
1 package (10 oz., about 40) marshmallows
6 cups Rice Krispies
Funnel
Aluminum Foil
Paper
In large saucepan melt butter over low heat.  Add marshmallows and stir until completely melted.  Stir in food coloring and flavoring if desired.  Remove from heat.  Add Rice Krispies. Stir until well coated.  Let cool for 2 minutes.
Spray funnel with Pam.  Spoon mixture into funnel and compact down to form the kiss shape.  Turn funnel upside down releasing the mixture on a cookie sheet.  Let cool for 30 minutes.
Using foil squares, wrap each kiss.  I found that pulling the foil in a diagonal motion looked more realistic compared to a chocolate kiss.  Print out a special message and cut into strips.  Add your special message before sealing the top of the kiss.
Take it to the next level:
-Add food coloring to the melted marshmallows for colored kisses (I used 8 drops of red to get this shade of pink)
-Use Cocoa Krispies for a chocolate flavored treat
-Add flavoring to the melted marshmallows (I used peppermint)
For another idea using Rice Krispies Treats check out http://www.ricekrispies.com/#/recipes/valentine-cut-out-treats
If you are new to crafting, you may want to visit the Newbies Page. Thanks for visiting!