Posted in
Beginners
,
Holiday
and tagged with
Beginners
,
Valentines Day
on 02/06/2010 10:50 pm by Chrissy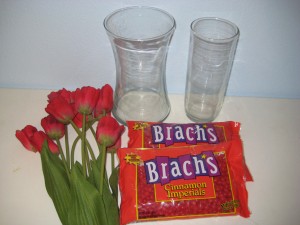 Materials:
Large vase
Small vase (needs to fit inside large vase)
Flowers (real or artificial)
Candy (I used conversation hearts and red hots)
Ribbon
This is a cute idea to bring drama into a centerpiece for Valentine's Day and is simple to do.  Gather all your materials and have them close at hand.
Place the small vase inside the larger one.  Pour 2 inches of candy into the large vase to make sure the smaller vase is secure.  Place your flowers in the small vase and arrange as you desire.  Continue filling the larger vase with candy up to the brim.  If you have difficulty getting the candy into the vase, roll a sheet of paper to use as a funnel.  To add a finishing touch, use any ribbon to tie a bow around the vase.
If you are new to crafting, you may want to visit the Newbies Page. Thanks for visiting!