Posted in
Parties
and tagged with
Parties
on 02/23/2010 08:15 pm by Chrissy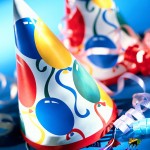 I don't think of myself as a party planner or an expert, but I do enjoy a good time and have the gift of hospitality.  Going to a party in an uncomfortable or uptight environment is just wrong.  Here are a few tips to make sure that your guests aren't disappointed at your next event.
Communication:
The way you communicate the details of your event says a lot about you and the event.  For a more casual affair, I use www.evite.com.  Everyone seems to be on email these days, so sending them the details electronically are perfectly acceptable.  For a more formal event, paper and postage are still your best bet…but be creative.  Themed postage stamps and ornamented invitations will add to the mood of your party.
No matter what form your invitation takes, be sure to tell your guests the Who, What, Where, and Whys but also consider the following as well: are children welcome, do they need to bring anything, what activities will be taking place, are gifts welcomed (if so, provide some ideas), is there a dress code, and make sure to indicate your theme through the verbiage and invitation.
Timing is an important game in sending out an invitation.  Send it too early and people will forget, too late and they will already have plans.  For formal events, like a wedding or anniversary party, get your invitations out no later than 6 week.  For a birthday party, I would say 4 weeks.  For an informal get together, like our Game Nights, you can get away with 2 weeks.
Decorations:
You can add decorations to any event, big or small, on any budget.  A centerpiece on the table will create a mood for your event or you can choose to go large with scene setters.  Whether or not you intend to, your space will add or take away from your party.  If you are having people in your home for a celebration make sure the environment celebrates the occasion.  I am not saying that your house has to look like something out of Better Homes and Gardens, but take some time to pick up around the entertaining area and make sure your guests have a place to sit.
Food:
Everyone loves to eat.  I am a simple girl at heart so you won't find anything too fancy or hard to pronounce at my party.  Heck, I don't even think my formal dining table has been used.  Just like the communication and decoration, your food should match whatever feeling or mood you want to set.  If you are having a birthday party, think fun.  At a Christmas or Thanksgiving party, think warm and traditional.  It is also important to consider your seating as you prepare a menu.  Serving ribs with no table space for each guest will end up in dirty carpet and frustrated guests.  The most important rule at our parties is: place the utensils at the end of a buffet line.  My husband rants about this idea, which does make sense.  Your guests will not know if they need a spoon or knife until they make it through the buffet.  Don't waste precious plastic-ware.  Think through your food choices and layout as if you were a guest.  Make sure it flows well and makes sense.
Entertainment:
Now it is time to have fun.  If you are planning a child's birthday ages 4+ the games should be geared for the kids.  Most parents will sit on the sidelines.  If you are having a party for 3 year olds and under consider the parents as active guests.  Find games or activities that everyone can have fun doing.  For an adult party remember that everyone is a kid at heart.  Don't rule out a piñata or 3 legged races, you can have even more fun than the kids…especially after a drink or two.  There are lots of games available for adults that will have you laughing and making memories in no time.
When planning your party make sure to take a moment to reflect on who knows who on your invite list.  If your guests do not know each other, make introductions and share a point of interest about each guests to start conversations.  This will put your guests at ease and allow you to move throughout the party instead of being tied down to lonely guests.  Name tags are almost always a mood killer.  Be creative and have markers for guest to write their names on cups.  If someone forgets a name it is easy to take a glance at their cup as a reminder.
These are the first steps to planning a successful party.  Anticipate your guest's needs and think about what you would enjoy as a guest.  But remember that a party is for you to enjoy along with your guests, so don't be so busy that you miss all the fun!  With some planning and acceptance of help, you too can enjoy every moment of your next perfect party.  So, go get your party hat and have some fun.
If you are new to crafting, you may want to visit the Newbies Page. Thanks for visiting!