Posted in
Beginners
on 01/26/2010 06:44 pm by Chrissy
­­Just like any other hobby, to be a crafter you have to have the right tools and equipment.  Here are a few basics to have on hand no matter what type of crafts you take on.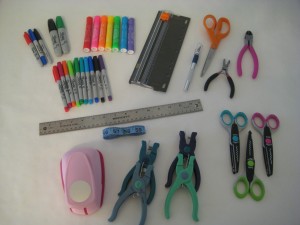 Writing and Cutting

Acid Free Markers
Sharpies
Paper cutter
Sharp scissors
Pliers
Wire cutters
X-Acto knife
Paper punches
Edging scissors
Ruler and tape measure
Sticky Stuff
Glue gun
Craft glue
Double stick tape
Tape dispenser (scrapping style)
Paper and Paint
Decorative paper
Cardstock
Acrylic paints
Paintbrushes
Extras
Ribbon
Pipe Cleaners (aka chenille stems)
Googly eyes
PomPoms
If you are new to crafting, you may want to visit the Newbies Page. Thanks for visiting!